Hub and Spoke Internet Marketing – How to Generate Traffic, Links and Leads
The "hub" of this unique strategy is your main website and the spokes surrounding it utilize what some people refer to as "lead valves."  Lead valves are different types of online marketing tactics used to make it easier for prospects to find and hopefully contact you.
Since Google is constantly changing and updating their algorithms, the more lead valves you have in place, the more likely it is you'll find some that Google likes.
If implemented correctly, these lead valve spokes are sending traffic and leads to your main website 24 hours a day, 7 days a week.
The Hub and Spoke strategy is designed to do several things:
Help you dominate page #1 of Google using multiple methods
Generate multiple streams of highly qualified traffic to your website
Increase the number of inbound links to help improve your Google page rank
Position you and your business as an authority and the only place to purchase the products and services your offer
The most important thing to remember when deploying the Hub and Spoke strategy is that people will only click on your lead valve links if you are providing quality content and will only stay on your site if they can quickly find what you promised and what they are looking for.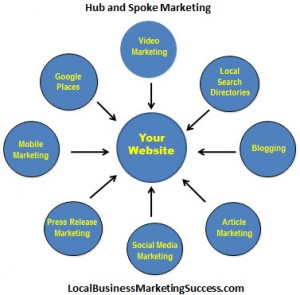 Being on Page #1 Isn't Good Enough Anymore – You Have to Dominate Page #1
If you've already done some SEO (search engine optimization) on your website, hopefully Google has "rewarded" you with one page #1 ranking and that's great…but it's not good enough.
Why?  Because your one website listing is competing with the 20 other pay-per-click and organic listings that already appear.  It's no longer just about being on page #1 anymore.  The only way to really stand out is by dominating page #1.
Dominating page #1 means that your message and links appear, multiple times thereby giving you a clear advantage over all your competitors.  After all, the more times you appear, the less your competition does and the more likely it is you'll "get the click."
I've worked with clients where we have gotten all 10 organic positions on Google for their selected keyword phrase – now that's dominating page one!
How easy is it to dominate page #1?  It's not easy, but it is possible.  The key is to create an ongoing, consistent and systemized approach so your Internet marketing does 3 things – Generate Traffic, Links and Leads.  Let's go through each one.
Traffic – Page #1 May Get You Traffic, But is it High Quality Traffic?
In simple terms, website traffic is the number of visitors that a website receives.  But how do you know if your website traffic is high quality traffic?  Check your stats.
Your hosting company should be able to provide this information for you.  Google analytics is another great option and it's free.  To learn more about Google Analytics, check out this free video – http://budurl.com/FreeAnalyticsVideo
Here are a few of the stats that you should track for all incoming traffic:
The average number of page views per visitor

– a high number would indicate that the average visitors go deep inside the site, possibly because they like it or find it useful.
Average visit duration

– the total length of a user's visit. As a rule the more time they spend the more they're interested in your company and are more prone to contact.
Bounce rate

– how long a visitor stays on your site.  A high bounce rate means that someone came to your site, didn't find what they were looking for and left within 30 seconds.  Anything less than a 50% bounce rate is considered good.
Referral Sources

– to determine which Internet marketing strategy is sending you the most and the best traffic, check your Referrer Sources stats.  Google analytics can actually show you where your visitors came from – the site they were at just before they ended up on your website.  If you hub and spoke strategy is working properly, you will see evidence of it as a referral source.
Links – What Are They and Why are They so Important?
Here's what Google says about backlinks…"Pages that we believe are important pages receive a higher PageRank and are more likely to appear at the top of the search results.
Webmasters can improve the rank of their sites by increasing the number of high-quality sites that link to their pages."
For all practical purposes, backlinks are viewed by Google as 'votes' regarding the quality of your website, and is based on the logic that the more websites that are actually linking too you, the better your website must be.
Building quality backlinks is absolutely essential to your website's success and a strategy that can't be ignored by those really serious about increasing traffic.
The best way to get quality backlinks is obviously to provide quality content that 3rd party websites will view as important and relevant and therefore post for their site visitors to see too.
There are several methods to build a strong base of backlinks to your website.  Here are three:
Article marketing
Press release marketing
Just remember, link building doesn't happen overnight and it takes time for Google to find them.  It is a slow process and one designed for the long term benefit of your website and your business.
Leads – Traffic is Great, But You Must Have a Mechanism to Convert Traffic into Leads
Once a visitor arrives at your site, everything you do should have one overriding objective – turning visitors into leads!  The only way to verifiably do this is to have a strong call to action and to capture their contact information – at minimum first name and e-mail address.
How do you do that?  By offering them something of value, something that can help them make an informed buying decision, something that they want in exchange for providing you their contact information.
A Special Report is one of your best and easiest vehicles for doing just that.  Special Reports are FREE and generally a little longer than a brochure and a bit more detailed.  Its purpose is to provide needed information that your prospect couldn't get anywhere else, thus building value in the mind of your prospective client. You can get several free reports in this website.
To learn more, set up a phone consultation or get pricing, please call or e-mail
David Carleton at 858-442-3131
David[at]StreetSmartSalesAndMarketing.com