As to be expected, all dealers want to be on page #1 of Google for the keyword "hot tubs" – ie: "Hot Tubs Woodbury" "Hot Tubs Lake Oswego" (see example below)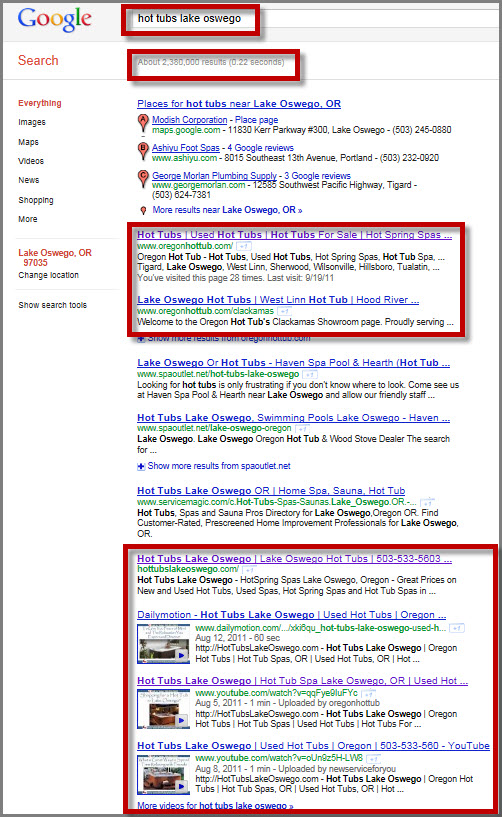 But having a strategy for just the most popular keywords excludes prospects that might be using other less popular but just as important keywords.
In the "keyword world," there are what's commonly referred to as "research keywords" and "buying keywords." These keyword search terms are used at different points in the buying process for most products and services – especially high ticket ones.
"Research type keywords" are more generic or general in nature and might bring more traffic to your website, but this traffic is usually in the information gathering stage and less likely to "convert." They may not be in the buying mode yet and therefore haven't even made their mind up as to whether they even want or need your products and services yet.
"Buying type keywords" on the other hand will bring you less but more qualified traffic. This type of "Internet searcher" has already done their research and is ready to buy. These type of keywords are commonly referred to as "long tail keywords."
I did some keyword research this weekend and have come up with a list of new keywords that you may want to incorporate into your Internet marketing efforts. As I already said, they may not bring you a ton of traffic, but the traffic you do get may be more qualified for such things as service, repair, spa covers, etc.