Some studies suggest that as much as 70% of all Internet searches are for local products and services.  Google has apparently taken notice of this and over the last few months has changed and updated some of the ways they return search results, placing more emphasis on local.  One of the most exciting for small business owners is Google Places.  Google Places is a FREE local business listing service and Google has already created these sites for almost 50 million businesses around the world.
These sites have been pre-designed, pre-indexed and many already appear on page one!  Some of you are probably saying, "How can my business be listed on Google Places if I haven't done anything yet"  Information contained on your places page has essentially been gathered from third party websites, online yellow pages and other business directories, aggregated by Google and put into one place… your Google Places page.

Want to See if You Have a Google Places Page?
Here's how.  Type the name of your business and zip code into Google and then click on the Maps tab at the top.  If Google has created a Places page for you, it should immediately appear – See example below.
Good News, Bad News
The good news is that Google has created this site for you.  The bad news is that the information on the site might not be accurate.  Maybe you have moved, changed the name of your company, etc.  The only way to change the information on your Google Places page is to claim your page and verify the information.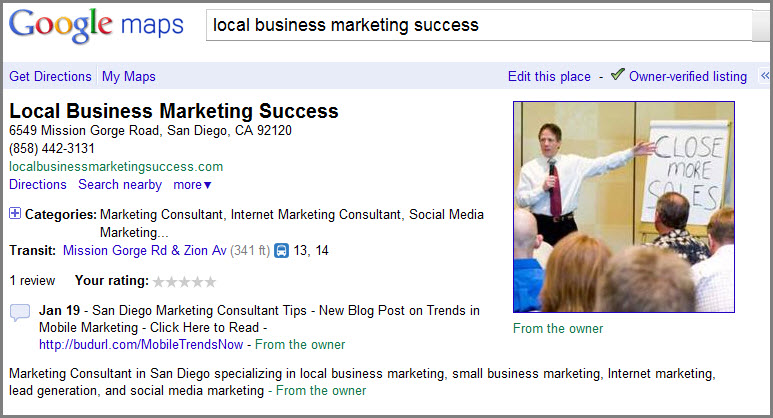 Two Major Advantages to Claiming Your Google Place Page
In addition to correcting the information on your page, Google also encourages you to provide additional information about your company that your customers and prospects would find helpful, such as hours of operation, brands carried, special offers, etc.  You can even upload photos and videos of your products and services.  Claiming your Places page also prevents others from claiming it – yep, it does happen!
The other advantage of claiming, verifying and updating the information on your Places page is that you now have the ability to improve your Google Places page rankings.  Believe it or not, less than 3% of the 50 million places pages worldwide have been claimed.  A claimed and effectively optimized Places page can drive more traffic to your business by actually bumping a non-claimed competitor off of page one!
How to Improve Your Google Places Listing
Here are a few things you should do when creating your listing:
*    Business Name: Represent your business exactly as it appears in the offline world.
*    Business Location: Use a precise, accurate address to describe your business location.
*    Website and Phone: Provide a local phone number that connects to your individual business location as directly as possible, and provide one website that represents your individual business location.
*    Categories: Provide at least one category from the suggestions provided in the form as you type. Aim for categories that are specific, but brief.
*    Custom Attributes and Description: Use the description and custom attribute fields to include additional information about your listing
Citations
Citations can be found at the bottom of your local Google Places page under the heading "more about this place."  Although you cannot add these yourself, you can actively go out and get citations.
A citation is simply a listing for your business on another site (including the business name, phone number and address). Yes, it's very much like link building, except that instead going around looking for sites where you can drop your link, you need to only look for sites that allow you to list your business with the address and phone number.  Online Yellow Pages are a good example.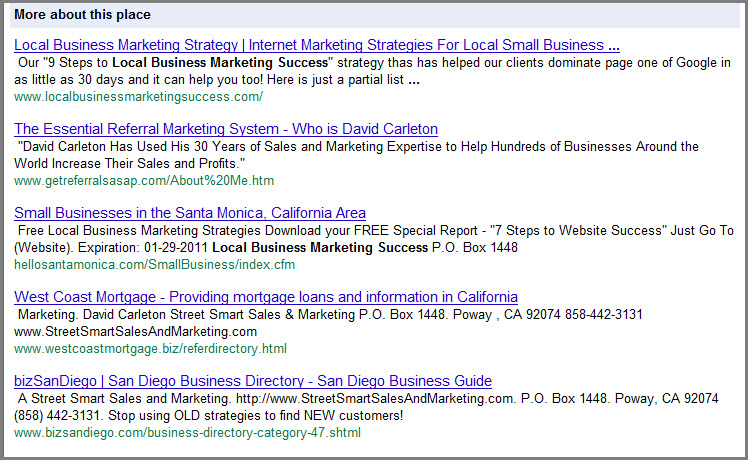 Reviews
Another important part of your Google Place page is the reviews section.  The best way to get reviews to show up on your Places page is to provide great products and services so that your customers and clients will want to rave about.  Satisfied customers should be encouraged to visit your Places page and write a review.
Other review sites include Yelp, Insider Pages, Judy's Book, CitySearch and more.
The bottom line is that the more citations and reviews you have, the better your Google Places listing will rank, the more visitors you will get to your site and ultimately the more leads and sales you will generate.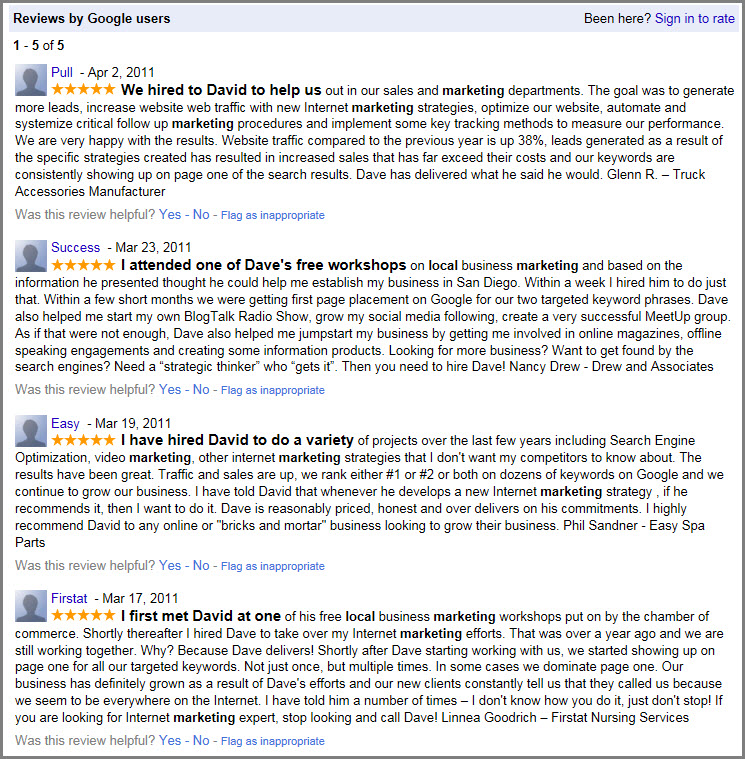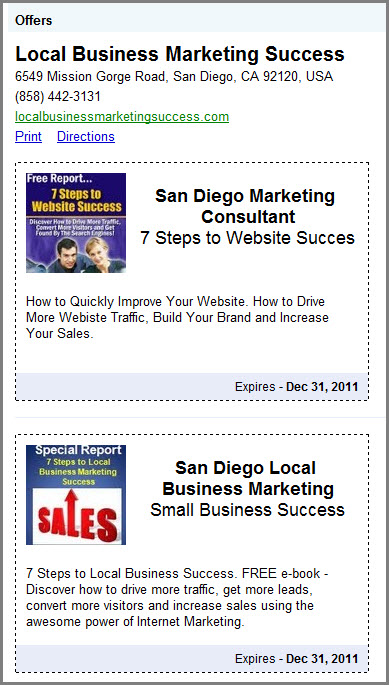 Coupons Really Work
Google Places also lets you create special offers or coupons, so I would encourage you to take advantage of this feature.
Here are Your 7 Steps to Google Places Success
1. Claim and verify your listing
2. Optimize your listing with keywords
3. Select the best categories
4. Add photos and videos
5. Add coupons
6. Get citations
7. Update status and coupons regularly
Google is Not the Only Game in Town
Although, claiming your Google Places page is critical to your online success, there are other Local Search Directories such as Bing Local, Yahoo Local and Merchant Circle, just to name a few.  Each directory has its own "rules and regs" and optimizing each can be cumbersome, time consuming and somewhat tricky.  If you don't want to set them up yourself, I would encourage you to get someone well versed in this area to do it for you.

Local Search Directory Marketing Should Not be a "Set it and Forget it" Strategy
Like many of your other marketing strategies, search directory marketing should be considered a one-time program.  As more of your competitors (some of whom are reading this now) learn how to optimize and monetize their Google Places listing, it is going to get tougher to get on and stay on page one.
Therefore, in order to either attain or maintain your top listing status, I encourage you to consistently, monitor, control, defend, update and promote your Google Places page.
Our Done For You Google Places Services Include:  Creating and optimizing you Places page to generate leads and gain maximum exposure.  We also create and optimize listing for other major directories like Bing Local and Yahoo Local too.
To learn more, set up an initial phone consultation or get pricing, please call or e-mail David Carleton at 858-442-3131  – David[at]StreetSmartSalesAndMarketing.com