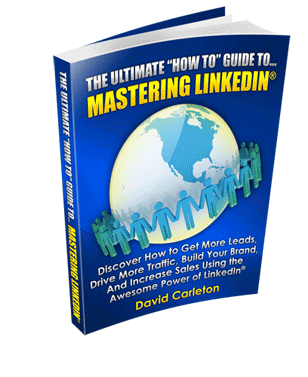 Hello Gemini Dealers,
Thanks for rquesting your copy of Mastering Linked In.
To download your report, just right click on the link below and select "save as".
Right Click Here to Download Your Linkedin e-Book
The report comes in a Zipped file (compressed) for faster download speed. You will need a program like win-zip to un zip the file.
If you have have any questions or need any additional information, please feel free to contact me at 858-442-3131.
While you're hear, why not take a look around the site, read a few blog posts, etc. This is a ton of free information that I know you'll find useful.
If you want to stay on top of all the latest in Internet marketing and changes at Google, I suggest that you like my Facebook page.  This is how and where I keep all my clients up to date.
Click here to visit my Facebook page – www.facebook.com/NewMarketingIdeas
Regards,
David Carleton
David[at]StreetSmartSalesAndMarketing.com
858-442-3131