Every small business owner knows that referrals are the best way to get customers. Referrals from your current customers come to you predisposed to do business with you because a friend or someone they trust referred them.
In fact, over 40% of the small business owners who recently participated in a recent Internet poll revealed that referrals brought them the biggest returns over other traditional marketing methods such as advertising, direct mail and networking.
But Getting Referrals Can Be a Frustrating Task.
From my own experience and conversations with other small business owners, I know that getting people to refer your business can be difficult. Most business owners are too embarrassed or scared to ask for referrals and the majority of customers are too busy to remember to refer you.
It sometimes gets annoying when you receive promises for referrals that never materialize or you give lots of referrals but get none in return. When you don't have control over the referral process, it can be very frustrating.
How to Get More Referrals
Over the past 15 years as a small business marketing professional, I've seen and implemented dozens of different referral systems in numerous industries.
I've worked with independent professionals such as sporting goods stores, hardware and housewares retailers, home centers, hot tub and pool builders, and a variety of service type companies just to name a few.
After all my years of helping businesses get more referrals I've concluded that the number one method to getting more referrals is to simply develop a very close and personal relationship with your customer, so that when the time is right, they will remember and refer your business.
And the very best way I've found (by trial and error) to develop a close bond with your customers is to keep in constant contact with them on a personal basis using greeting cards and postcards.
Common Problems With Sending Postcards or Greeting Cards
Have you ever wanted to send a card to someone but forget to do it or you simply didn't have time to do it? Have you ever wanted to send a series of follow up notes to a business prospect or customer, but didn't have a system to keep track of who and when to send it to?  The SendOutCards.com system solves those problems.
When I meet someone at an event or when someone buys something from me I try to get the person's name and address and sometimes even their birth date or anniversary date. I then put that information into the SendOutCards.com reminder system and when the date rolls around, the reminder tells me to send a personal card to them.
Next, I pick out an appropriate greeting card in the system (it has over 20,000 greeting cards), write a short note to the person, and then I click a button and it gets mailed.
Another extremely powerful way I use the SendOutCards.com system to get referrals is by sending my customers a 12-month follow up referral card program. I usually get an average of two referrals per customer using this system!
A Custom Developed Referral Card
Here's the way it works. I custom developed a set of six very unique referral card designs, which I had SendOutCards.com set up for me in the system. Then I set up a 12-step mailing campaign using a mix of referral cards, thank you cards, and holiday cards.
Now every time someone buys from me I enter their name into the system and attach my 12-step referral campaign to their name and push a button. That's all I have to do.
At the beginning of each month, over the next 12 months, my customer gets a hand-written, personalized card from me. And the best part about it, is that it only costs me $12 to stay in touch with them for the next year, without lifting a finger.

Not Only Does This System Generate Referrals, But It Closes Sales Too!
Studies have shown that in most industries, sales are made after 5 – 7 contacts with your prospect.  Yet, the vast majority have NO system of follow up.  It's because following up has traditionally been a pain in the butt…until now.
If you can enter a name and address and push a button, you can launch an extensive follow up relationship building program with your prospects.  Imagine how this system could set you apart from every one else vying for your prospect's attention.
Recently, I was reading the results of an interesting poll on why people buy.  The number one reason why people buy, according to this poll, was because the buyers "liked and trusted their sales person."  "Liking" is the single most powerful element in a sales and referral relationship.  What better way to establish a powerful relationship of appreciation and trust than with a sequence of sincere greeting cards!
Here's the Coolest Part of the SendOutCards.com System…
Imagine, with just the push of a button, being able to send a series of personally customized postcards or greeting cards to your prospects, customers or friends without ever touching a single card.  Sounds incredible doesn't it.
You can send two cards, five cards, or 1000 cards at any interval you specify.  They're called "campaigns" and once you set it up, you can just forget it.  The cards will go out on time, in the right order, exactly as if you had sent them out yourself, much like an email autoresponder system.
A campaign is very simple to set up.  Here's all you need to do:
STEP 1 – Define campaign.
STEP 2 – Select the cards for the campaign and fill them out.
STEP 3 – Tell the system at what interval you want them sent out.
Here are a few samples of cards from the power sports industry that I created for a client to stay in touch with his customers.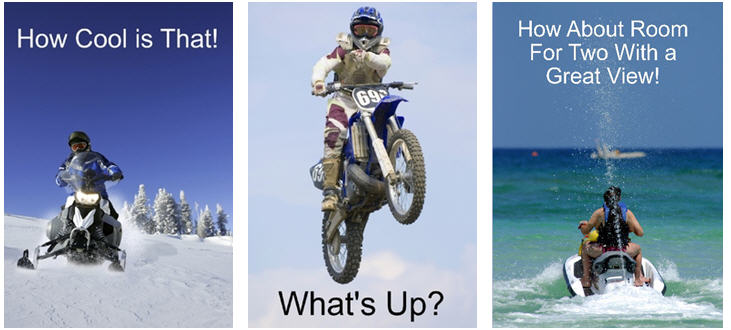 The SendOutCards.com system allows you to enter in all the text in the card and uses a "token" to grab the persons name and personalizes the card for you.  Once you set up your automated custom referral card campaign, you simply enter the person's address and attach it to a campaign and the system does the rest.
Other Unique Features of  The SendOutCards System:
You can create "thought bubbles", text boxes and captions – here's a great example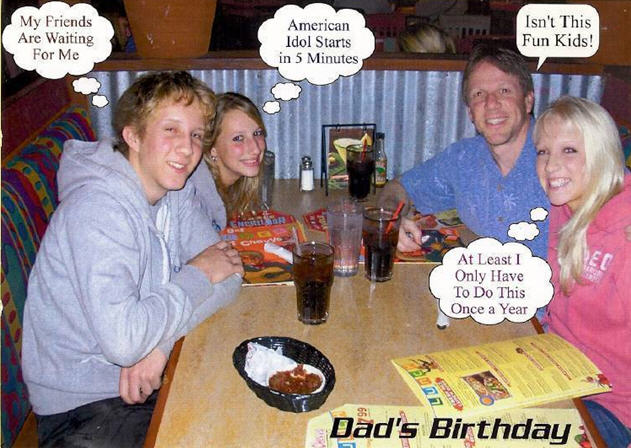 You can even send out cards in your own handwriting with your own signiture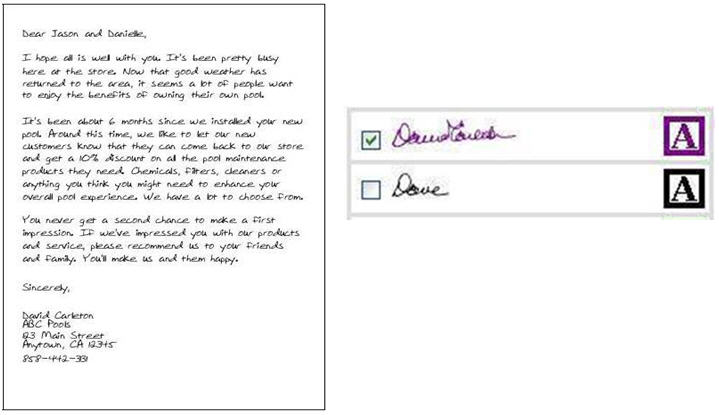 As you can see, postcard marketing can be a simple way to keep in touch with your customers and clients and create compelling, yet cost-effective marketing campaigns to sell your products and services. If you're generating leads, make sure you use the services of a qualified list broker to help you select the right mailing list for your needs.
If you're just sending cards to your customers or known prospects, don't feel shy about jumping on the Web and using an online postcard mailing service. The humble postcard can be a powerful tool that can put your marketing efforts into overdrive and produce big results on a small budget.
I strongly suggest that you watch this short video to see first hand the amazing postcard system that I have been using since 2007 to get referrals, generate leads and stay in touch with friends, family and clients
To learn more, set up a phone consultation or get pricing, please call or e-mail
David Carleton at 858-442-3131
David[at]StreetSmartSalesAndMarketing.com