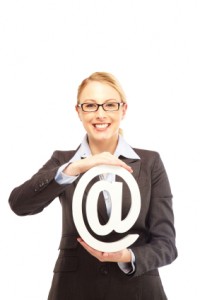 Why Follow-Up Marketing and E-mail Marketing Are Such a Critical Part of  The Sales Cycle?
One of the fastest, easiest and most effective ways to follow up with your prospects and current clients is through e-mail marketing and newsletters.  Why?  Because all you do is compose an e-mail, customize it to suit your readers and niche and click the broadcast button to reach thousands of people instantly!
Once you get website visitors to "opt-in" to your mailing list, they want and expect you to send them information and offerings.
In addition, e-mail marketing is highly scalable. Unlike 'offline' marketing where you are using a mass marketing "shotgun approach" , with e-mail marketing, it takes the same amount of time and effort to reach 100 prospects as it does 10,000.
Using an autoresponder allows you to customize the e-mail in such a way that it allows you to connect with your newsletter subscriber individually using their name in the title and throughout the communication.  The more personalized your e-mail, the better the result.
You can also automate many tasks with your autoresponder.  You can actually customize the subscriber experience by what to send to them, when you send it and the frequency between each e-mail.
But converting visitors into leads is only half the battle. What you do with those leads is just as important as how you get them. You must establish a SYSTEMATIC follow-marketing process that includes a SEQUENCE of communications with your prospects. These communications should be a combination of direct mail, phone calls, and email.
There are 3 different types of follow up marketing that we suggest and provide for our clients. Click on each of these recommended strategies to learn more. E-mail Marketing, Referral Marketing and Postcard Marketing