Imagine not having to worry about when and where your online leads are going to come from again. But not just the quantity of leads, the quality most times is even more important. All your online marketing efforts really revolve around one thing – getting as many qualified leads as possible! Let's face it, visitors that have a real interest in your products and services have a higher likelihood of buying – that just makes sense.
Now imagine an automated and systemized strategy that drives qualified traffic to your website on a daily basis..all on auto-pilot. How valuable would it be to your business having a real hands free "set it and forget it" strategy that once implemented works indefinitely?
The great thing is that you don't have to know anything about html coding, Internet marketing, blogging, etc. to implement this strategy. The only thing you need to decide is when you want to get started, it truly is that easy. Let me explain…
Google, the world's #1 search engine is a "matchmaker" – they bring together people looking for information, products and services and companies that offer them. In their effort to do this, Google's goal is to provide the most up-to-date and relevant information possible in the shortest amount of time…literally in seconds!
So in theory, if you could give Google exactly what it was looking for on a timely and consistent basis your chances of landing on the coveted page #1 would improve. That just makes sense. The problem is that most small business owners have neither the time or expertise to do that. Let's face it, you're too busy running your day-to-day business to spend the time learning about link building and Internet marketing, much less giving trying to keep up with Google.
That's where we come in. In a strategic effort to help Google find you versus your competition, we developed the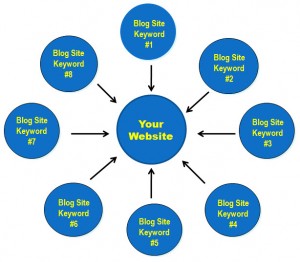 Automated Traffic Hub and Spoke System.
The Automated Traffic Hub and Spoke System is made up of one Hub – your main website and 8 keyword specific mini-blog sites that feed you qualified leads 24/7.
These are highly optimized keyword rich and targeted websites with fresh content and one way relevant back links added every single day…automatically! And they have one purpose – attracting traffic and siphoning off only interested and qualified leads to your Hub Site – 24 hours a day/7 days a week.
The more traffic these mini-sites get, the higher page rank they get and higher page rank they get, the more "link juice" or high quality back links they send to your Hub Site. Here's what Google says about backlinks…"Pages that we believe are important pages receive a higher PageRank and are more likely to appear at the top of the search results. Webmasters can improve the rank of their sites by increasing the number of high-quality sites that link to their pages."
Our "Done For You" Automated Traffic Hub and Spoke System Includes:
1 – 8 Mini Blog Sites – Each site will have a different look and feel and be highly optimized for the keyword you select. We conduct extensive on-site search engine optimization
2 – An endless supply of targeted content posted automatically to each site. We legally import content from the hottest spots in your online market such as YouTube, rival blogs, article syndication sites and more. Your blog will even come with comments on the content from real people!
3 – Auto-posting at slow, steady natural intervals – It's now well known that slow and steady content publishing wins to race when it comes to ranking with Google. The content posted will be "dripped" naturally so the posting is on one hand, totally automated, and on the other hand, appears even more natural to Google than the real thing.
4 – Incoming quality one way backlinks that continue to build steadily and will over time help you achieve better search engine rankings. We use a system that automatically searches out "like" or relevant link parties and sets up a three party link exchange.
5 – Deep linking direct access – Deep linking is linking to a specific interior page of your hub site that your visitor is interested in as opposed to just linking to your home page. Why is deep linking so important? Some studies show that you can lose as much as 25% of potential visitor sales due to failures in getting a visitor to the right page. By deep linking to a specific product or page, you can eliminate problems that can occur with visitors navigating a your website.
To learn more, set up a phone consultation or get pricing, please call or e-mail
David Carleton at 858-442-3131
David[at]StreetSmartSalesAndMarketing.com