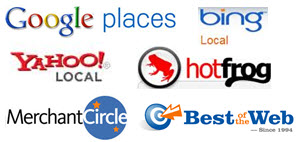 Thank you for investing in the Local Search Directories Set Up Service
I have sent you an e-mail that confirms your order as well as repeats the information request contained on this page.
I will be in contact with you by phone during the project to either get more information or to answer your questions.
Please download, review, sign and fax back a copy of the Marketing Consultant Agreement Form in the zipped file found in the download link below.
As soon I recieve the signed agreement, I will put your project on the work schedule. Most projects are completed within 2 weeks and local search directory profiles will begin to show up within that timeframe as well although some profiles take longer to show up than others.
In addition to the agreement, I have also included a word document questionnaire. Please type in the information requested and e-mail it back to me at David@StreetSmartSalesAndMarketing.com. I will use this information to create your highly optimized local search profiles.
Right Click Here to Download This Form (Right Click and Select – "Save Target As" and Save this to your Desktop)
If You Have Any Questions, Please Feel free to Call David Carleton at 858-442-3131