Most every visitor that finds your website has a problem that they want solved.  But each potential customer/client is at a different stage of the buying/decision making process.  Although some are ready to buy now, most are still in the process of gathering information.
Regardless of what stage of the buying process they are in, you want be able to provide useful information that a potential customer can use to help them make an informed decision.
Selling most high ticket products and services these days requires that your prospects be educated about who you are, what you do and how your products/services can solve their problems.  This type of "Education-Based Marketing" is critical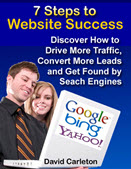 because the education process IS the selling process.  Your clients want and need information and credible advice.  What they DON'T want is a sales pitch.
Everything you do on you site should have one overriding objective – turning visitors into leads!  The only way to verifiably do this is to capture their contact information – at minimum first name and e-mail address.
What you want to do is get first time visitors to opt-in to something you offer.  In order to do that, you need to offer something of value, something that they want in exchange for providing you their contact information.
A Special Report is one of your best and easiest vehicles for delivering your educational message.  Special Reports are FREE and generally a little longer than a brochure and a bit more detailed.  Its purpose is to provide needed information that your prospect couldn't get anywhere else, thus building value in the mind of your prospective client (many times before you even meet in person).
"Done For You" Special Report Creation
Create one 10-page report with information provided by client
Format report into a "downloadable" PDF format
Strategy on how/where to offer the report on your website
Create a specific call to action
Create a 4 color graphic book cover depicting the special report
Want to see how it all works?  Just enter your name and e-mail address into the box on the top right of this page to get your free report – 7 Steps to Website Success.
To learn more, set up a phone consultation or get pricing, please call or e-mail
David Carleton at 858-442-3131
David[at]StreetSmartSalesAndMarketing.com
* requires outside services