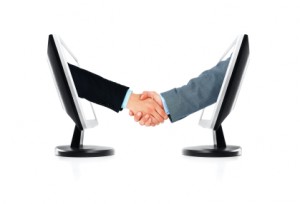 Convert More Visitors into Leads
You have a website for many reasons – to provide important information on your products and services, to add credibility to your business and as a means to give prospects a way to learn more about who you are and what you do.
Having said all that, everything you do on your site should have one overriding objective – turning visitors into leads!  The only way to verifiably do this is to capture their contact information – at minimum first name and e-mail address.
Website "surfers" behave rather impulsively on the Internet, so much so that many times they easily forget where they were even 10 web pages ago.  That's why it is so critical to convert as many first time visitors as possible…and quickly!
If 1,000 visitors visit your website, leave and never come back again, you can imagine the amount of potential revenue that's lost.  Conversely, just converting a small fraction of visitors into your customers, can have a significant impact on your sales and profits.
Some experts say that creating unique content can keep some of the visitors coming back, but very often, unique content is just not the enough. The real, long-term solution lies in converting your visitors into leads or subscribers.
And the best way to convert a visitor to a lead is by asking for their name and email address through an opt-in form.
But converting visitors into leads is only half the battle. What you do with those leads is just as important as how you get them. You must establish a SYSTEMATIC follow-marketing process that includes a SEQUENCE of communications with your prospects.
To become truly successful, you must automate your daily follow-up operations as much as possible, so you can spend time working ON your business, instead of working IN it.
Visitor conversion has different stages including…
Website visitor to lead
Lead to customer
Customer to referral maketing "evangelist"
Each one of these conversion has its own strategy found on this website.  The most important thing we want to do is to monetize each stage of conversion.  For the "website visitor to lead conversion", we recommend 2 strategies including Special report and Quiz Marketing.
Click here to learn more about our Special Reports and Quiz Marketing strategies!
To learn more, set up a phone consultation or get pricing, please call or e-mail
David Carleton at 858-442-3131
David[at]StreetSmartSalesAndMarketing.com