Internet Marketing for Local Small Business – How to Automate, Systemize and Combine Online Lead Generation and Offline Follow-Up Marketing
Generating qualified leads is the key to growing your business. Easier said than done these days considering there are fewer buyers in the market with less money to spend. And with some companies "giving away the farm" just to generate cash flow, you have to spend even more time with prospects talking about the value of your products and services.
As small business owners, we spend a lot of our energy generating leads through various forms of promotion and advertising such as radio, TV, newspaper, trade shows, etc. Many companies are actually quite good at it. Where we seem to fall down though is following up on a timely and consistent basis. Just take a look at some of these startling statistics;
– 48 % of sales people never follow up with a prospect
– 25% of sales people make a 2nd contact and stop
– 12% of sales people only make 3 contacts and stop
– Only 10% of sales people make more than 3 contacts
What this essentially means is that if you consistently follow up with your prospects more than 3 times, you are doing better than 90% of your competitors. That fact by itself should help you close more deals!
Why don't we follow up like we know we should? Because "life" gets in the way. The day to day running of our business seems to occupy most of our time leaving little time for the follow up we know we could and should be doing better.
So what's the answer? Systemizing, automating and combining as much of the online and offline lead generation and follow up marketing process as possible. The overall objective of this strategy is to make it as "hands off" as possible to free up your time to close the deals that such a system can generate. Does such an automated system exist? Yes it does and here is exactly what you need to do…
Step 1 – Create a powerful lead generation method capable of dominating page one of Google. My strategy of choice is Video Marketing. I have gotten many of my clients on page one of Google for their selected geo-targeted keyword in less than 12 hours. You can see examples of lead generation videos by go here:  lead generation video marketing  – These videos are used to capture attention and drive traffic to a specific landing page.
Step 2 – Drive all that traffic to a keyword rich, highly optimized lead capture "landing page". This landing page can either be on your current website or be created specifically for and in conjunction with the video marketing strategy described above. The purpose of this landing page is capture contact information from your prospects.
The way you entice prospects to give you their contact information is by providing something they want and need…either information that can help them make an informed buying decision or ways they can get the best deal on their upcoming purchase. This information can be in the form of a free report, free video, MP3 or something else of value that the prospect would want in exchange for giving you their contact information.
Step 3 – Create a second video. Once the prospect gets to your landing page, you want to create another short video explaining how this information can help the prospect and how easy it is to get it. Your landing page and short video must contain a call-to-action such as "enter your contact information to get your free video" Generally speaking, the more information you ask for, the fewer opt-ins you will receive, but the more qualified they will be.
The key to combining off-line follow up is getting the prospect's name and address. The way that I do that is by offering to send them a valuable CD in the mail. This has a high perceived value. You can see an example of this type of landing page below or go to http://www.LeadGenLandingPage.com to see it live!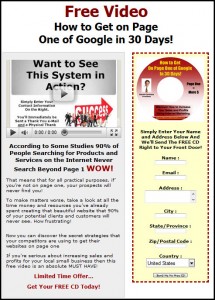 Step 4 – Set up an online and offline follow up marketing system- The tricky part is to set up an internal system to automatically send the contact information gathered from your landing page to an e-mail autoresponder like A-Weber or Constant Contact AND to your offlineSendOutCards account. This is something I do for my clients.
Here's how it works. The name and e-mail address you get from your landing page gets sent to your autoresponder account. This system will automatically follow up with your prospects via e-mail as long as you want…every 3 days, 8 days or whatever you have pre-programmed your autoresponder to do ahead of time. This takes care of your online follow up.
The name and address information from the landing page is also sent to your SendOutCards account where you have already set up a prospect campaign that will send out specific greeting cards that you have hand-selected ahead of time. These cards can be thanks you cards, birthday days, follow up cards and can even include gift cards from such popular retailers like Starbucks. This takes care of your offline follow up.
Remember all of this is now being done on auto-pilot. All you need to do is set all this up once and let the system capture the leads and then automatically follow up – it truly is a "set it and forget it" strategy. Now obviously you can't close a big ticket sale with a greeting card or e-mail, so at some point you will need to contact the prospect by phone is they have not already contacted you.
Setting up an automated and systemized lead capture and follow-up program like this will free up a lot of you time to market your business, close more sales or even take a day off once in a while!
David Carleton is a Local Business Marketing Expert who specializes in showing small business owners how to spend less and get more from their marketing and advertising using low cost strategies in local business marketing, lead generation and conversion, Internet marketing and social media. To get your free 60 minute video – "How to Get On Page One of Google in Less 30 Days" visit http://www.LocaBusinessMarketingSuccess.com
Tags: email marketing, Local Business Marketing, offline marketing for local business, postcard marketing, small business marketing, video marketing