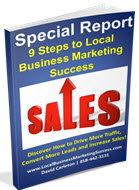 Thanks for requesting your Free Report – 9 Steps to Local Business Marketing Success.
Your e-mail with the link to your report should arrive in a few minutes. Please be sure to check your spam folder in case the e-mail goes there. I also suggest you add me to your "whitelist" – David@StreetSmartSalesAndMarketing.com
While you're waiting, check out this short TV news interview I gave on how to avoid crisis marketing. I promise it is worth watching.
If you have any questions or need any additional information, please feel free to contact me.
Sincerely,
David Carleton